What is a Virtual Receptionist?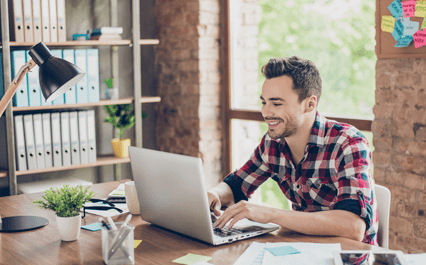 Virtual Receptionist is a premium outsourced live telephone call answering service. Your incoming phone calls will be answered by one of our friendly and professional receptionists to help support your business (24/7) in the critical task of answering those incoming phone calls quickly and in a professional manner while routing important calls and taking messages for the not so important ones. We take pride in offering you the same level of quality that you would expect from your own internal staff, but for just a fraction of the in-house cost.
Our call answering services are available 24 hours per day 365 days per year. – it's totally up to you how much and how often you use us. (small surcharge applicable out of standard business hours)
Whether you are an SME looking to project a more professional image or you are a larger business wanting support during a busy period (e.g. marketing product launches, advertising campaigns etc) or your own physical receptionist is away on sick leave, taking lunch or is on vacation leave, our telephone answering service is the answer.
Our Virtual Receptionists are a great solution during times of business disruption when your own staff may be required to work from home (WFH) and your current PABX and internal receptionist cannot function as they normally do. The Covid-19 pandemic (Coronavirus) is an example of the type of situation that could never have been anticipated, but critically our professional telephonists could be answering your incoming calls in minutes by clicking 7 Day Free Trial. With the support of our dedicated USA based receptionists, you and your team will be able to work from home safe in the knowledge that you incoming phone calls are being answered quickly and dealt with professionally, with calls transferred to staff or messages taken by the receptionist and sent to the correct department or staff member by email or text.
One of the great benefits is that there is no need to change your current business telephone number which you have likely been using for quite some time and which probably appears on your website, business cards, brochures etc. You simply need to divert your existing phone number (800, local or cell phone etc) to the local or toll free number that is allocated during our Free Trial set up procedure. Once done our professional telephonists can be answering your incoming calls within minutes.
You don't have to push all of your phone calls to us. Our service is really flexible. It may be that you just want your calls answered when you are not available. In this case you may have the calls transfer after a specific number of rings or you may decide you want to get our telephonists to screen calls prior to passing them through. We can structure services to what makes most sense to your business right now. You can then change your service at any time as circumstances change.
VIRTUAL RECEPTIONIST
CORONAVIRUS (COVID-19) SOLUTIONS
Back-up for in-house receptionist teams
Instant call management for staff on sick leave
Work from home (WFH) call screening and transfers
Call answering to support remote working
After-hours support
Call overflow
Taking customer orders (cafes, restaurants)
Call centre operations replacement
Instant set up, no long-term contracts
Our Virtual Receptionist service is the perfect solution in these times of business disruption. Instantly set up your call answering service with our professional, virtual receptionists. No PABX phone equipment required. Scale up and down as needed.
How to back-up in-house receptionists
Calls can be diverted to our virtual receptionist team in times of sickness, overload, specific times of the day, out of hours, and for specific locations or departments. Our American network of professional receptionists are already set up as work from home – so we've got you covered.
How to manage calls for staff on sick leave
When a staff member is off work sick our virtual receptionist can answer and screen calls, take and send messages via email or SMS, live transfer wanted calls or direct calls to a colleague. Update your call settings instantly online to suit your situation.
Work from home call answering service
Whether working at home (WFH) on quarantine, or remote working as part of your business continuity plan, in this time of self-containment, our virtual receptionists can instantly answer calls for any number of remote working staff. WFH phone calls are managed seamlessly across any location.
Taking customer orders
Many cafes and restaurants are moving to a home delivery model meaning they need new ways to take orders. We can take orders over the phone and send details to you by text or email. We can handle hundreds of simultaneous calls if needed. Capacity is no barrier.
What is COVID-19 Call Centre operations replacement
Many offshore operations are shutting down, leaving US based companies without a service. Self-distancing can reduce call centre team capacity by 50%, to allow for wider seating configurations. Our virtual receptionist service offers the latest in call centre technology. We can instantly replicate your current call centre operation giving 100% call management redundancy.
Get A Virtual Receptionist And Take Your Business Forward
We live in a connected age! All businesses now use the internet and practically everyone has a smart phone that is also connected to the internet. On the plus side this means that in business we have more data available to us than ever before. On the negative side this means that as a business person you now have a huge number of different things that you have to do and you have to be aware of. Unfortunately, the old ways don't really work any more and you need to embrace the internet to win back some of that time. One really effective way to embrace the internet is to get yourself a virtual receptionist.
For a long time now, companies have been spending a great deal of time and money trying to make themselves more efficient. Efficiency plus overall customer satisfaction is now more vital than ever before. Given that almost all industries out there are now faced with both local and global competitors. If your business can't give customers the best level of service 24/7 then you can expect them to lose customers. They are not prepared to settle for second best any more. Globalization and the growth of the World Wide Web have changed the way that we operate.
Companies need to look for the most efficient ways to operate. An important change that companies can put in place is to build a reliable platform with which to support future company growth, like ensuring that customers have easy access to information that they need, as and when they need it. Having a good platform that is easily accessible for customers makes sure that those customers actually want to come back again in the future.
From building a better website to providing first class customer support, it all adds to the myriad of ways that you as a business owner can use to help strengthen the ways in which your business is portrayed. From our perspective, one of the most influential ways that you can build your company profile is to use a telephone answering service for your business. By using an answering service you can save money on inhouse staff costs and potentially earn additional profits by giving your staff more time to focus on the important issues.
A phone answering service is a service that has been developed with the intention of providing your company with a voice that it might have previously been lacking. This is a service that you can use for your business if your business is not in the position to afford a full time in house physical receptionist.
With a lot of small to medium sized businesses they cope with a scenario whereby there are missed calls, calls not being answered or calls being answered unprofessionally. With a telephone answering service you can have someone with a professional approach sitting on the other end of the phone who takes calls professionally for your business. When you sign up for our service you never need to miss out on calls again, calls that could translate into paying customers, which would then ultimately result in making more profit.
With a Virtual Receptionist you can ensure that
All of your calls end up with the right people who can ensure that they are dealt with properly. Rather than an incoming call being lost, telephone answering services will make sure that such problems are a thing of the past. Your customers will now get answers that they need when they call your business and you can avoid missing out on those important incoming calls.
You can prioritise the calls that deserve your attention. As a business manager, you don't have time to talk to every caller that rings in. You can easily solve this problem and ensure that you are spending the right amount of time with the right people to make your business grow.
Your customers believe that you have a permanent telephonist. When someone calls your business they will be met with an optimistic, upbeat and cheery voice on the other end of the line who will hopefully resolve their issues and put them at ease. If you are personally answering your calls while in the middle of a really stressful day then your overall demeanour can drop. Having a telephone answering service on call allows you can avoid these drops in demeanour and avert any crucial mistakes. A telephone answering service can act as a permanent member of your staff. A staff member who can always be there, taking your calls and keeping positive.
As you can see, it makes good business sense to get yourself a telephone answering service as it not only presents a professional and positive image to your callers but it also gives you back a lot of time to focus on the really important aspects of your business.
How much does it cost to get a virtual receptionist
Like many services it will depend very much on how much you use the service. If all you want is a backup for all of those times when you can't get to the phone then it will be quite cheap. If you are a larger organisation and you want us to answer all of your calls then the price would be higher. On a positive note however, many of our customers report saving up to 40% on the cost of an internal resource.
Here at Virtual Headquarters we have structured a number of packages for our customers to ensure that they are getting great value from their call answering service.
The basic package starts at only $29/month, you get a pay as you go service which charges you a $29 retainer plus $2.85 per call. For a lot of small businesses that are just starting out this can be an excellent investment. Our basic package allows you to get cost effective pricing that allows your business to scale up when you start getting more consistent call volumes.
Need to step things up a notch or two? Why not check out our $69/month service. This service gives you 25 calls per month with additional calls costing just $2.80/call. Its really great value for businesses that are building their reputation. Eg, this package would work well for local tradespeople plus service providers who can use this package to ensure that they don't miss any calls when they are actually working.
Our next package costs $119/month and you will get an included allowance of 50 calls per month. This package is the most popular package that Virtual Headquarters provides. It is one of the most effective ways to build a viable working platform, Allowing your existing staff to take some incoming calls while you have your cloud based receptionists ready to pick up any calls that you can't attend to.
The next package costs $220/month. With this package you get 100 calls per month which allows you to get that all important help needed to build a customer focused environment. Larger trade related customers use this package along with medium sized CPA firms and attorneys.
Our largest package, for companies who require 200 or more calls answered per month costs $435/month and included 200 calls. This is a great package for companies who need to outsource all of their call answering or that are planning substantial growth.
Regardless of the size of your company, Virtual Headquarters will have a package that can suit. We are also happy to custom build a package that fits your particular circumstances.
What benefits can you get from an answering service?
There are a whole range of benefits ranging from gaining all of that additional time to always presenting a professional image to your callers. Listed below are some of the main benefits.
Improve Your Overall Call Rate. Rather than identifying missed calls or answering messages long after the client has moved on, you can use this improved overall call rate to capture each and every lead that is dangling out there for you. Leads start falling through your grasp, and you no longer need to rely on the eagerness of the customer to try calling you again. You cannot expect everyone to wait around for you, and this helps you to avoid that entirely. With a call answering service you can make sure that every single enquiry that comes in via an incoming call is handled professionally and accurately.
Save Money. As mentioned above, doing this can allow you to get professional help for your business without the usual stresses and strains that tend to come with trying to save money in general. Thanks to this, you can really make sure that you have a reliable member of staff who makes your business sound great without having to pay a hefty salary package each year. Some of our customers have reported that they save up to 40% of the cost of an in-house receptionist.
Strengthen Your Overall Company Position. With the help of Virtual Headquarters you can vastly improve how your business presents itself and its general level of operation. You will appear to be larger than you actually are. Rather than having an unprofessional answering service from a member of staff who is trying to do 6 other tasks at the same time our service will allow your business to vastly strengthen its company position and make you appear to be somewhat larger without the extensive cost of a full time receptionist.
Get On With Your Own Work. Rather than trying to wear 5 different hats at the same time you can actually get on with the stuff that you need to do like building the company revenue or developing the company's strategy. Think of where you can take your company once you have all of that additional time available.
Enhance Your Company Image. Present a professional image to your callers each and every time. No longer will it be a lottery in terms of how your callers are going to be responded to. When you use our service you can say exactly how you want your
What Type Of Business Would Benefit The Most from Virtual Phone Answering Services?
Our services are used by a broad range of small to medium sized businesses. Here are a few examples of industries that use our services.
Consultants. We have a broad range of consultants who use our service. Many of these consultants spend long hours locked away with clients or locked away carrying out research on specific tasks or projects. Incoming telephone calls can be a huge distraction if you are trying to solve a complex task so having a virtual receptionist makes a lot of practical sense.
Professionals.From accountants to law firms, being able to offer some kind of professional support to a client is extremely useful. Telephone answering is a service that can be very cost effective for professionals. Even if you exceed your monthly package and start paying excess calls it is still significantly cheaper than the cost of hiring an in house staff member who will need to undergo training in order for them to be able to answer your phones correctly. With Virtual Headquarters you get professionals who are capable of taking things to another level in terms of how your business deals with its callers.
Real Estate. Professional telephone answering services can be a real benefit to real estate agents. Getting an answering service is a great choice for real estate companies who want to improve their overall availability. In such a customer-oriented industry, it is vital that a real estate firm can always be available and accessible. Having a cloud receptionist allows you to make sure that this is how your customers will see your business, vastly improving how your business comes across and strengthening your overall position and reputation long term.
Services. From tradesman to cleaning services, anyone that provides a professional service can make use of our services. Now, support can be provided and solutions can be put in place without missing a step. One of the most important ways for you to manage the process is to get engaged with a phone answering service to avoid wasting money and resources going down the wrong route. This is the perfect way to improve and strengthen your position in the general sense.
Outsourcing your call answering can help you to take your small business to the next level. It just makes good sense!
"Every business should be a People Business."
Ever wonder why large corporations always put so much emphasis on their customer support, and why they're willing to spend large amounts of money to build their brand and support their customers? It's because they have realized that their business is actually a people business (customers externally and staff internally) and if they don't provide the best possible level of service to their "people" then they risk losing those customers and damaging their business.
You need to take the same approach with your business. Focus on providing youre callers with the best most professional level of service that you can and watch your business grow.
Focus on strategy not on your telephone calls
Where are your staff located?
Our team of highly skilled professional telephonists are located in a call center in Phoenix Arizona however we provide call answering services to businesses in almost all states within the USA. We will provide you and your business with the type of admin support that you need to help get your business to the next level.
How will I receive my messages?
It's really quite simple, when setting up your account you will tell us how you want us to greet your customers when we answer your incoming calls. You will then need to tell us how you want your messages sent to you. The options in respect to sending messages is that you can either receive an email message to your inbox or a text message to your cell phone. Email messages are free of charge however the text messages will incur a small fee.
Do I need to sign a lengthy contract
No, you do not need to sign a lengthy contract. All of our customers can cancel with just one months notice. Our customers average around 3 years with us. From what they have told us, they stay with us because they feel they are getting a great level of service and they feel that we provide value to their businesses. What we hear regularly from new customers who have only been with us for a few months is that they wish that they had known about our service earlier as it provides so much benefit to their business.
Do I need to provide a credit card to sign up for the free trial
Not at all. The free trial is totally no-obligation. Unlike many of our competitors we do not require you to give your credit card until you have decided to go ahead with our service. The reason that we do this is that we genuinely believe that our service will sell itself. Once you see how good the service is and the significant benefits that it can add to your business you will really want to sign up.
Do you only operate in the USA
We have operations in the USA, Australia and the UK. We can also assist customers who are located in Canada, Hong Kong, Singapore and Japan. We would be more than happy to answer your calls in any of these locations. If you are interested in getting your Canadian, Hong Kong, Singaporean or Japanese calls answered then please call our customer service staff on 866-454-3599 to discuss how we can manage this for you.
What's next, How can I sign up?
The easiest way to sign up is to simply fill out the signup form on our signup page. If you feel like you don't have the time to fill out the form online then you can simply call our friendly customer care staff on 866-454-3599 and they will be more than happy to help you through our signup process. Let us help you to grow your business!